After the storm, we have worked long and hard to rebuild your island home and we're incredibly pleased to be headed back to something we're all familiar with – Siargao Island Villas is finally open and ready to give you the utopic beach vacation and island experience you've been waiting for!
Our villas are now open for you – we are ready and waiting. Don't miss out! Book with us now.
Where To Find Us?
Travel by Air

Epcot is a theme park at Walt Disney World Resort featuring exciting attractions, international pavilions, award-winning fireworks and seasonal special events.

Sayak Airport is situated in Brgy. Del Carmen; approximately 45 minutes from General Luna.

To get to General Luna from Sayak Airport, you can take any of the public utility vans parked outside the terminal. The prevailing fares are: P300 per person per way for shared vans, and P1500 per way for private vans that can seat up to 6 persons.
Travel by Sea

From Surigao City, you can catch a multicab or tricycle to get to the port where you'll be boarding the boat or ferry (be sure to tell the driver whether you want to take a trigger boat or Roro ferry, as these depart from different ports).

There are daily trips from Surigao City to Dapa Port (Siargao Island), the earliest leaving at 5:30AM and the latest at around noon. Prevailing fares are P350 per head for trigger boats and P250 for ferry.

Once you reach Dapa Port, you can get to General Luna by taking a tricycle for P300 or habal-habal for P250. You can also take a P50 tricycle ride to General Luna from the nearby tricycle terminal at the town market which is a few minutes walk from the port.
Premier Suite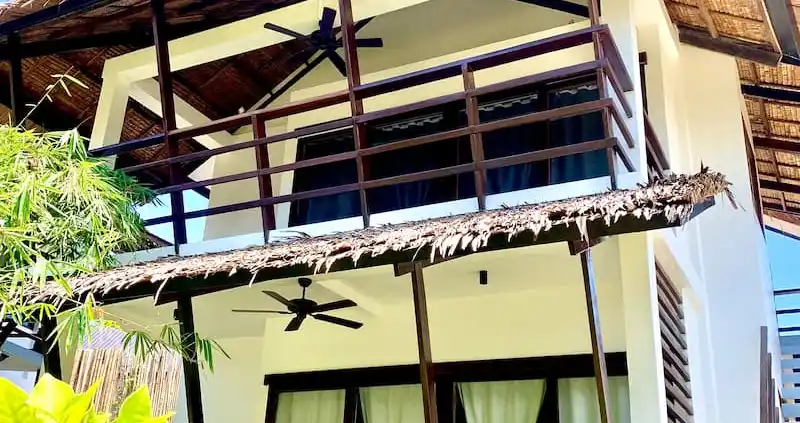 Premier Suite
Be it lounging around the terrace, enjoying the clear view of the garden, swimming in the resort pool, or savoring authentic Indonesian food while feeling the sea breeze.
Beachfront

Beachfront Villas
Weaving the best of the Siargao lifestyle into elegant accommodations and luxury amenities, our Beachfront Villas give you unrivaled access to the most captivating stretch of beach on the island.
Island

Island Villas
Our Island Villas have a contemporary but discreet feel. Each one has that combined modern and care-free Siargao lifestyle vibe. Enjoy the surrounding nature as you take a minute stroll to the beach.
Garden

Garden Rooms
Tucked away in a secluded and exclusive part of the resort, our garden suites strike the right balance between Siargao's rustic lifestyle and contemporary amenities, all amid a landscape of lush greenery and soothing tranquility.
Explore beyond the Island's sun-kissed shores
Slide

Surf Boards

Siargao Island Villas Transport

TOURS
Island Hopping

Daku Island, Guyam Island, Naked Island

Php 1,500 (2-3 pax)
Php 1,800 (4 pax)
Php 2,000 (5-6 pax)

*additional 300 per extra head
Island Hopping w/ Sohoton Cave

Php 5,500 (2-5 pax)

*additional Php 1,000 per extra head
Land Tours

Magpupungko / Rock Pool, Sugba Lagoon, Tayangban Cave

Tricycle

Php 2,500 (2-3 pax)

*additional Php 1,000 per extra head

Van

Php 5,000 (2-6 pax)

* additional Php 500 per extra head
RENTALS
&

ROOM SERVICES
Motorcycle Rental

1 Day Rental
2 Days Rental
3 Days and more of Rental
Room Service Massage
Airport Van Transfer

Shared Van
Private Van

Php 1500 for 5 persons

*additional Php 300 per extra head
…Or take a relaxing dip in the Pool
Slide

Surf Boards

Siargao Island Villas Transport

Siargao Surfing

Swim with Family

Salt Water Swimming Pool
Siargao Island Villas specializes on its Salt Water Swimming Pool system that provides safety and comfort without the strong odor and taste of chlorine which can cause red eyes and skin irritation. We use natural elements in maintaining cleanliness and water chemistry for your absolute one-of-a-kind swimming pool experience.

Explore the gastronomic side of Siargao with a diverse choice of local and international cuisine, including our renowned Indonesian restaurant, Warung.
What our guests have to say…
Testimonial 1
Best place to be stranded— relaxed and amazing vibe, warm and helpful staff, yummy Indonesian food. I daresay I'm looking for the next chance to be here.
Testimonial 1
Warung – Siargao Island Villas is the best place to stay in Siargao. I highly recommend this place for having a relaxing ambiance, friendly staff, and good food. This place is great for couples, families, and groups of friends traveling together.
Siargao Island Villas
1:38 am, June 9, 2023
27°C
Wind: 7 mph
Pressure: 1007 mb
Visibility: 10 km
Sunrise: 5:16 am
Sunset: 5:57 pm